Fused zirconia corundum bricks are indispensable refractory material for glass kiln key parts, because they not only have strong resistance to glass liquid corrosion, but have no pollution to glass liquid. Zirconia corundum bricks are also called AZS bricks. The primary raw materials of fused zirconia corundum bricks are industrial alumina, ZrO2 and calcined zircon, auxiliary materials are sodium carbonate and borax.
The production process of fused zirconia corundum brick is: raw material batching-three-phase electric arc melting-casting-annealing-machining and inspection. By ZrO2 content, fused zirconia corundum bricks are divided into fused zirconia corundum-33 bricks, fused zirconia corundum-36 bricks  and fused zirconia corundum-41 bricks.
Fused Zirconia Corundum Bricks Advantages
High refractoriness and high refractoriness under load.
Good resistance to glass liquid corrosion.
Good thermal stability.
Wearing resistant and washing-out resistant.
Long service life.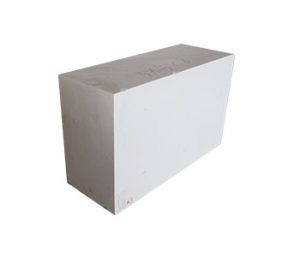 Fused Zirconia Corundum Bricks Physiochemical Indexes
Item
RS-ZIRCONIA CORUNDUM-33
RS-ZIRCONIA CORUNDUM-36
RS-ZIRCONIA CORUNDUM-41
ZrO2 % ≥
32
35
40
SiO2 % ≤
16.0
13.5
13.0
Fe2O3 +TiO2+CaO+MgO+K2O+Na2O+B2O3 ≤
2.5
2.5
2.5
Glass phase permeation temperature ℃
1400
1400
1400
Bulk density g/cm3
Ordinary casting ≥
3.40
3.45
3.55
Dense casting ≥
3.50
3.60
3.70
No shrinkage cavity casting ≥
3.60
3.70
3.80
Application of Zirconia Corundum Bricks
The most important application of zirconia corundum refractory brick is glass furnace. Zirconia corundum-33 bricks are mainly used at working tank, fore-hearth, upper structure and crown. Zirconia corundum-36 bricks have high corrosion resistance and low pollution to glass liquid, they are mainly used at the parts contacting with glass liquid, such as melting tank wall, clarification tank, working tank and so on. Zirconia corundum-41 bricks have the best glass liquid corrosion resistance and the lowest pollution to glass liquid. Their main application parts are: melting tank wall, throat, kiln weir, charging hole corner brick, bubble bricks, electrode bricks and so on.