Refractory Bricks For Sale at low price in Rongsheng Kiln Refractory Company are high heat resistant refractories bricks used in kiln, furnace, incinerator, etc. Commonly used refractory bricks are corundum mullite bricks, high alumina bricks, corundum bricks,magnesite bricks,clay bricks and son on. If you want the best refractory bricks for sale, please don't hesitate to get the quote from Rongsheng Kiln Refractory Company! RS will provide you the best refractory bricks with the low price!
Refractory bricks for sale meaning are called a kind of shaped refractories which belong to one kind of refractories. Refractory brick is refractory material with certain shape and size. Their shape has standard rules, but also can be built and cut as necessary temporarily according to the need. Refractory bricks for sale are made form refractory clay or other refractory raw materials with the color light yellow or brown.
Classification Of Refractory Brick For Sale
According to different manufacturing process, Refractory Brick For Sale can be classified into the burnt brick, unburnt brick, fused brick and insulation refractory brick.
According to different shapes and sizes, Refractory Brick For Sale can be classified into the standard brick, ordinary bricks and special shape bricks, etc.
According to different chemical properties, there are acid refractory bricks, neutral refractory bricks and alkali refractory bricks.
And in accordance with the mineral composition, there are fireclay refractory bricks, high alumina bricks, silicon bricks, and magnesite bricks, etc.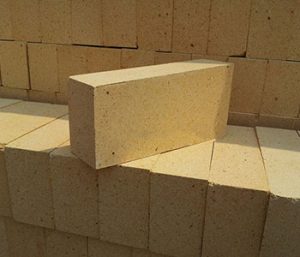 Refractory bricks for sale are commonly used in smelting furnace, resisting the high temperature of 1580-1770℃. Refractory bricks can be used as high temperature building materials and structural materials for building furnaces and various thermal equipment and can withstand physical and chemical changes as well as mechanical actions at high temperatures.
Refractory Bricks Properties
Chemical composition : The main component determines the quality and characteristics of the refractory material.
Volume density: High bulk density indicates good compactness and high intensity, but thermal conductivity may be large.
Porosity: No specific requirements, but manufacturers must control the apparent porosity.
Refractoriness-under-load: It is the deformation temperature under the high heat environment and the load. It represents the materials' resistance to the high temperature.
Thermal shock resistance: The ability to resist rapid changes in temperature without being destroyed.
Compression strength: Maximum pressure capacity under ordinary temperature.
Flexural strength: Capacity to withstand shear pressure.
Coefficient of linear variation: It is also called the reburning line change or the residual line change, referring to the each expansion and constriction of volume in the same temperature change. If the expansion and constriction are the same, then we can define the this linear change rate is zero.
Refractory Bricks Price
Low Refractory Brick Price in Rongsheng Kiln Refractory Company! The brick price is closely related to Refractory Brick Use. Based on different conditions and environments and the different performance requirements, the price of Refractory Brick can't be lumped together. But RS Company can promise you all kinds of The Best Price Refractory Bricks with the highest quality.
About RS
Zhengzhou Rongsheng Kiln Refractory Co., Ltd as one of the professional refractory bricks manufacturers, pays great attention on technological innovation and product development, setting up technology research and development center and laboratory, processing the advanced complete set of refractory physical and chemical testing equipment. The refractory bricks in RS Company are sold remotely to UK, Canada, India, Philippine, etc. If you need? Just Email RS!