With the rapid development of industry, kiln furniture, as a special refractory material, has become an indispensable high-temperature auxiliary material product in the sintering process of ceramics, lithium batteries, and other industries.
What does kiln furniture refer to?
Kiln furniture refers to refractory products that can be recycled in industrial kilns to support or protect the products being burned. They are widely used in the production of daily-use ceramics, architectural ceramics, sanitary ceramics, and advanced ceramic materials. In recent years, with the rise of new energy circuits, lithium battery cathode materials require a large amount of high-performance kiln furniture in the production process, which has further attracted attention to kiln furniture.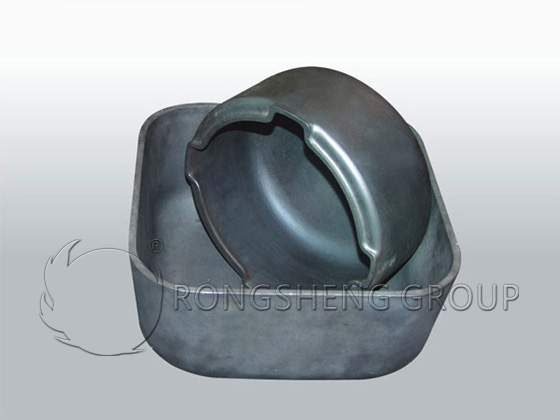 During the use of kiln furniture, the kiln furniture is generally thinned to reduce heat storage and save energy, but it must also have a certain load-bearing capacity. Therefore, kiln furniture is required to have a high normal temperature and high-temperature strength. The rapid firing process of ceramics requires kiln furniture to have better thermal shock resistance. For electronic ceramics, kiln furniture is required to have good chemical stability in order to prevent the products from being polluted. In the process of mechanical operation, the modern industry requires kiln furniture to have accurate dimensions to ensure normal production.
What are the types of kiln furniture?
If classified according to the material of kiln furniture, there are generally different types of kiln furniture such as cordierite, cordierite-mullite, fused quartz, mullite, aluminum titanate-mullite, silicon carbide, and corundum products.
According to the different service conditions of kiln furniture, we can divide kiln furniture into three categories.
The first category is lightweight side wall bricks for kiln car platforms such as tunnel kilns and shuttle kilns. This type of kiln furniture has a slightly lower ambient temperature, mainly because it can bear the pressure load and as long as it can achieve the purpose of low heat storage.
The second category is columns, slabs, and beams. This type of kiln furniture is directly in contact with the flame, and the ambient temperature is high. Shed boards, beams, and other parts also need to withstand the dual effects of high temperature and load-bearing pressure, so they are required to have a certain high-temperature flexural strength and good thermal shock resistance.
The third category is special kiln furniture used as sintering vessels, such as saggers and crucibles. This kind of kiln furniture is not necessarily in direct contact with the flame but only bears the gravity of the porcelain piece itself. So its application environment is sometimes much better.
The quality and performance of kiln furniture play a decisive role in the quality, output, energy consumption, pass rate, grade rate, production cost, and economic benefits of the entire enterprise of fired ceramic products. Therefore, improving the material performance and quality of kiln furniture, reducing the weight of kiln furniture, and prolonging the service life play an important role in firing high-quality products. Next, we will introduce all kinds of kiln furniture one by one.
Structural kiln furniture
Structural kiln furniture is an important part of an industrial kiln. The temperature in the furnace is high when it is in service, and it is directly in contact with the gas flame or subjected to radiation heat transfer by the heating element. It usually bears a load that is heavier than itself, or even several times its own weight, without deformation or breakage. This requires that it should have certain high-temperature mechanical strength and good thermal shock stability. In this kind of kiln furniture, shed boards (beams and columns are usually used together with shed boards, represented by shed boards), push boards, and rollers are the main ones, and the market capacity is relatively large.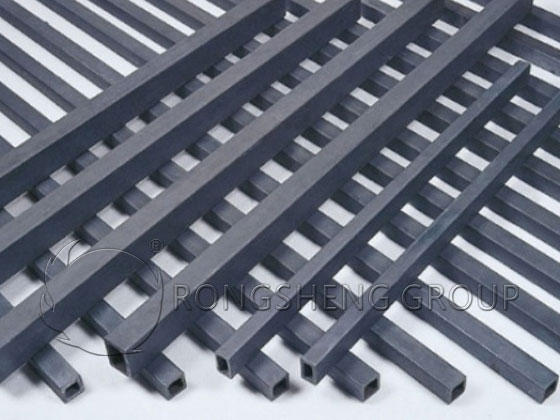 Shelf panels, columns, beams
Take the shed board as an example, the shed board is used as special kiln furniture to support the firing porcelain, and it is an important auxiliary material in the ceramic industry. The shed board has a large area and a thin thickness, and it is also the most used type of kiln furniture at present. Whether it is produced or used, it is the most representative. Commonly used shelving materials in the kiln industry include cordierite-mullite, corundum, silicon carbide, etc. The basic information is shown in the table below.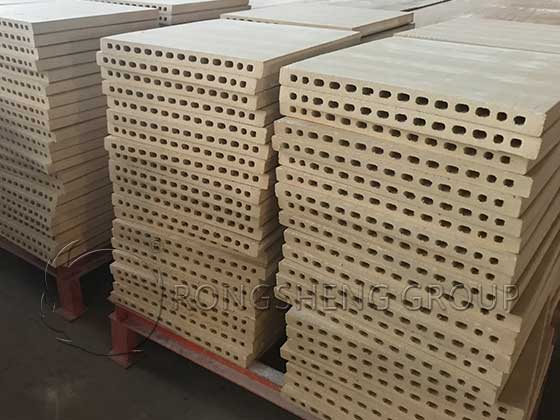 The thermal expansion coefficients of cordierite (2MgO·2Al2O3·5SiO2) and mullite (3Al2O3·2SiO2) in the cordierite-mullite slab are 1.1×10-6°C-1 and 5.3×10 respectively at room temperature to 1000°C -6°C-1. It can be seen that the expansion coefficients of the two materials are quite different. The composite preparation of the two materials enables the formation of microcracks at the interface between the two phases, which can effectively reduce the thermal stress caused by the rapid temperature change, thereby improving thermal shock stability.
With the development of high-temperature functional ceramics, such as soft magnetic (ferrite) materials and electronic insulating ceramics, the application of traditional cordierite-mullite shed panels has been limited to a certain extent. And corundum-mullite slabs are widely used. The shed board has excellent high-temperature strength, thermal shock resistance, and high service temperature (1700°C), has good chemical stability, and is not easy to react with the fired products. Tabular corundum, fused white corundum, fused mullite, Al2O3 micro-powder, and silica fume are used as the main raw materials. Large-tonnage hydroforming and ultra-high temperature firing can produce corundum-mullite high-temperature shelving panels with excellent high-temperature strength, thermal shock resistance, and extremely low high-temperature creep deformation.
Reaction-sintered silicon carbide material has high strength, high hardness, high wear resistance, corrosion resistance, good oxidation resistance, thermal shock resistance, and other properties, and is one of the most widely used structural ceramics and kiln furniture materials. The performance of silicon carbide shelving depends largely on the properties of the binder phase, especially the high-temperature performance. SiO2 combined with silicon carbide products has better raw material purity and high performance, and the price has a greater advantage than silicon nitride or sialon combined with silicon carbide. In recent years, due to the mature development of ceramic rapid sintering technology, the demand for SiO2-bonded silicon carbide shelving boards in the domestic market has further increased.
Push plate
The pusher kiln is widely used in the ceramic industry, and the pusher is its basic accessory material. Usually, the performance of the pusher determines the operating efficiency of the kiln. When the push plate kiln is in operation, it is required to withstand the load of the ceramic body or sagger, the huge jacking force, and the frictional resistance with the track at high temperatures without breaking, and the service life of the cold and hot cycle is as high as dozens or even hundreds of times. Therefore, the push plate must have a high normal temperature and high-temperature strength and wear resistance, and should also have excellent thermal shock stability. At present, the commonly used push plates at home and abroad are made of silicon carbide and corundum mullite, as shown in the table below.
The silicon carbide push plate is mainly composed of silicon oxide and silicon carbide. Because silicon carbide oxidizes more significantly above 1300°C, its application range is limited, and it is only suitable for some low-end manufacturing fields or fields with low kiln temperatures. At present, the larger application fields include a pusher kiln for lithium battery cathode material and a pusher kiln for the calcination of inorganic powder, and the application temperature is not high.
Traditional refractory materials such as corundum and mullite have many advantages, such as high load softening temperature and good creep resistance. However, the thermal shock resistance of pure corundum products is not ideal due to the large coefficient of thermal expansion. The thermal expansion coefficient of mullite material is significantly lower than that of corundum, which can be used as a sub-crystalline phase or a binding phase of the product. Therefore, the corundum mullite push plate combines the properties of the two materials, especially the thermal shock resistance is greatly improved compared with corundum products. The pusher kiln used for firing high-temperature ceramic materials has a service life of more than 100 times.
Roller
The roller kiln uses the rotation of sticks to transport the green body so that the green body is gradually sintered through preheating, sintering, and cooling zones. The advantages of the roller kiln are: the temperature in the kiln is uniform when the sticks are heated up and down, the product firing cycle is short, and the fuel consumption is low. Ceramic roller rods are the key components of roller kilns and consume a lot. It plays the role of carrying and transporting in the continuous high-temperature firing of products. When it is used, it should not only be resistant to a high temperature but also have the characteristics of high-temperature creep resistance during long-term rotation. The main materials of ceramic rollers are corundum, aluminum silicon, fused quartz, and silicon carbide. Among them, the material of the silicon carbide roller is recrystallized and reaction-sintered silicon carbide.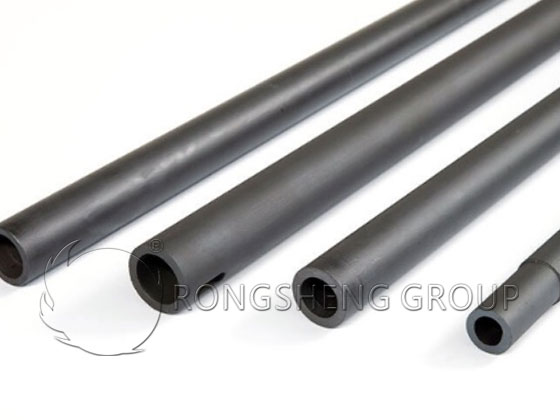 The maximum service temperature of the oxide material ceramic roller is basically less than 1250°C. For example, low- and medium-temperature roller kilns for daily-use porcelain, such as color firing, bisque firing, and wall and floor tiles, basically use oxidizing ceramic rollers. High-alumina ceramic rollers can also be used in other low-temperature positions beside the firing zone in medium- and high-temperature roller kilns for firing ferrite, daily sanitary ware, and Al2O3 substrates. The temperature in the glass annealing process is in the range of 600-900°C, and fused silica rollers with excellent thermal shock resistance are generally used. There will be no crystal transformation of fused silica during the application, and the appearance, dimensional accuracy and surface finish of the roller must meet the requirements.
Silicon carbide ceramic rollers can be used at temperatures exceeding 1300°C, and are often used as the preferred material for rollers for firing belts in medium and high-temperature roller kilns. Recrystallized silicon carbide roller rods have high temperature and high load capacity, and are used in roller kilns under high-temperature environments for the production of alumina ceramics and other special ceramic products. Recrystallized silicon carbide thermocouple protection tube meets the continuous needs in the field of high-temperature measurement with its superior corrosion resistance and high thermal conductivity. In addition, cold air pipes and some special pipes are also used in various industrial furnaces.
It should be pointed out that the preparation process of ceramic roller rods is more critical, especially the control of the forming process. Two preparation processes, vacuum extrusion, and isostatic pressing, are usually used. Products with low water absorption and high-temperature strength can be obtained through a high-temperature firing process (green body obtained by vacuum extrusion). However, the thermal shock stability of products produced by this process is usually not good. However, isostatic pressing and high-temperature firing processes can obtain products with high water absorption rates and high-temperature strength. Compared with the extrusion process, the thermal shock resistance of the product is its unique advantage.
Sintering vessels (saggers, crucibles, backing plates)
Special kiln furniture for supporting fired ceramic bodies. Or a sagger for heat treatment in a roller kiln, pusher kiln, or tunnel kiln after containing powder (calcination and synthesis of powders such as positive electrode materials, magnetic powders, and high-purity ceramic materials). Depending on the firing process of the manufacturer, this type of kiln furniture will be subjected to different heating conditions, and the material of this type of product depends on the type of sintered body and the heat treatment process.
Sagger/crucible
A sagger for heat treatment in roller kilns, pusher kilns, and tunnel kilns after containing powders (lithium battery cathode materials, magnetic powders, and high-purity ceramic powders). Generally, it is formed by extrusion, machine pressing, casting, and isostatic pressing. Choose the appropriate molding process according to the composition and structure of the product. The most widely used materials are cordierite-mullite, corundum-mullite, silicon carbide, and graphite, among which the synthesis of lithium-ion cathode materials is the most common.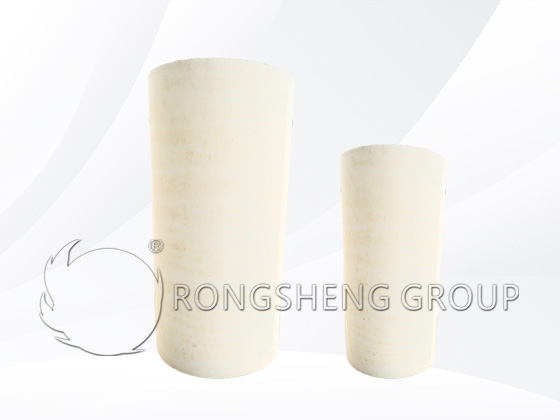 Cordierite-mullite saggers are widely used in the field of lithium battery cathode materials because of their excellent thermal shock resistance and economical efficiency.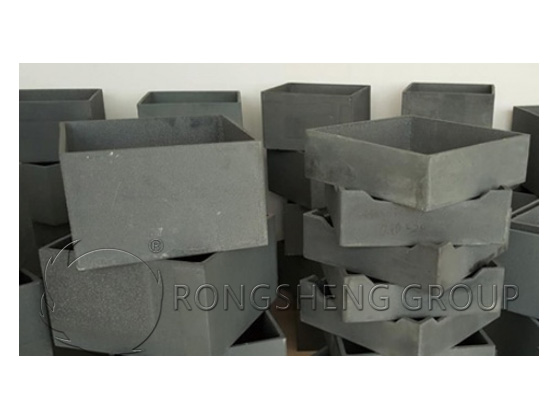 Because lithium carbonate/lithium hydroxide has strong alkalinity, low melting point, and strong corrosion to acidic refractory materials, the service life of aluminum-silicon saggers is generally low.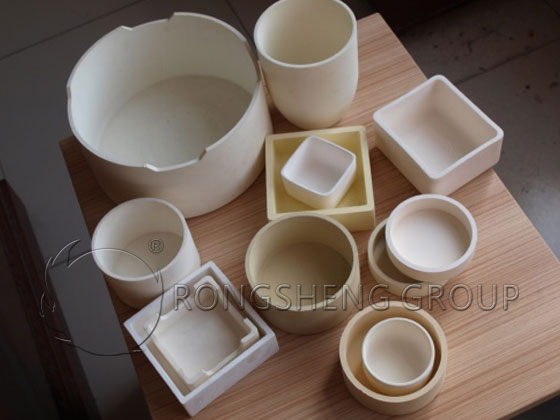 The corundum sagger is mainly used in the calcination of some high-purity powders in an environment where the thermal shock conditions are not harsh and the operating temperature is high. For example, high-purity alumina powder is calcined, and the sagger needs to be fired at a high temperature of 1800°C. It is produced with an Al2O3 content of 99.9wt% alumina active powder and low-sodium white corundum. The binder adopts low ash content (Ash≤0.01wt%) to ensure effective control of impurities in the entire raw material control and achieve a low thermal expansion coefficient after sufficient high-temperature firing.
Graphite and silicon carbide saggers have the characteristics of high thermal conductivity, high-temperature resistance, and excellent thermal shock resistance. Poor oxidation resistance, but excellent alkali corrosion resistance in reducing atmosphere. Graphite saggers are usually used as containers for high-temperature sintering materials in reducing atmospheres and are used in lithium iron phosphate sintering and electromagnetic material sintering. Traditional graphite saggers are produced by machining, which has low efficiency and high cost. In addition, silicon carbide saggers are widely used in pharmaceuticals, fine chemicals, engineering metallurgy, pickling, and other industries.
Setter plate
When the setter is in service, it must bear the thrust of movement and the friction of loading and unloading products, and it will not crack when it is used in cold and hot cycles. Under the condition that the thermal shock resistance of the setter plate is satisfied, it is the key to improving the bending resistance and crack resistance of the setter plate. The setter plate requires that its material has excellent chemical inertness and does not react with the setter product. The material of the setter plate is divided into alumina, zirconia, composite, etc., which are mainly used in the fields of electronic ceramics and special ceramics.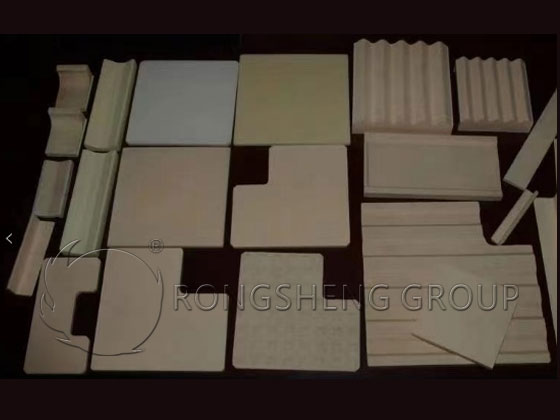 Corundum setter refers to high-end kiln furniture whose main crystal phase is α-Al2O3, which has excellent properties such as high strength, corrosion resistance, high-temperature resistance, and wear resistance. High temperature (>1650°C) has small deformation, but the sintering temperature is high and the thermal shock stability is poor. During the firing process of lead zirconate titanate piezoelectric ceramics, the corundum setter plate faces the phenomenon of central warping, surface-layered powdering, and peeling.
Zirconia is a corrosion-resistant, high-temperature resistant refractory oxide. Zirconia setter plates are often used as sintering backing plates for products such as dielectric ceramics, powder metallurgy, chip capacitors, ferrite magnetic materials, etc., in order to prevent the adhesion of parts during sintering and the loss of electromagnetic properties of electronic components, etc..
The firing temperature of conductive ceramics and device porcelain is generally between 1400 and 1650 °C. Generally, it is corundum-mullite, corundum, and composite.
Barium titanate ceramics is a star product in the electronic ceramics industry. Sintering is an important step in its preparation process, and it is the final stage that determines the densification and microstructure of barium titanate. Therefore, the quality of the setter board is particularly important. Because barium titanate has a low melting point (1625°C), high density, and is alkaline, traditional aluminum-silicon kiln furniture easily reacts with it, resulting in contamination of the product. Relevant foreign kiln furniture manufacturers have applied plasma spraying technology to the preparation process of setter plates. That is to say, the interlayer of the setter plate is made of corundum-mullite material and the periphery is zirconia cladding coating, which has the characteristics of high thermal shock resistance and does not react or stick with the setter chip laminated ceramic capacitor.
Summarize
With the development of industry, the types of products to be fired are increasing, and the application fields of kiln furniture are expanding. It is not only used in the ceramic industry but also in fine chemicals, lithium-ion batteries, and other industries. According to the performance characteristics of the burned products, the performance requirements for kiln furniture materials are not limited to mechanical strength and thermal shock stability. Some fields also require kiln furniture to have good corrosion resistance and not pollute the burned products. Different erosive media have different requirements for kiln furniture materials. For example, in the process of producing lithium-ion battery cathode materials, kiln furniture materials are required to have good thermal shock stability and good corrosion resistance to alkaline lithium compounds. When producing piezoelectric ceramics, kiln furniture materials are required to be resistant to corrosion by lead and its compounds.