High temperature refractory cement sales is high bauxite or industrial alumina and calcium carbonate (limestone) according to a certain proportion, calcining or electric melting to produce calcium aluminate as the main component, alumina content of more than 50% clinker, and then made of fine hydraulic cementation materials.High temperature refractory cement is often yellow or brown, there are also gray, the main mineral composition for calcium aluminate and other aluminate, and a small amount of calcium silicate etc.It has high refractory temperature and stability, and is often used as a binder for unshaped refractories.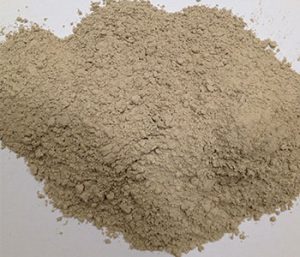 High Temperature Refractory Cement Application
1.Binder for unshaped refractory;
2.Aluminate cement has high heat resistance, and refractory coarse aggregate (such as chromite, etc.) can be made into heat resistant concrete (1300 ~ 1400℃);
3.For urgent projects.Aluminate cement has a fast setting and hardening speed, and the 1d strength can reach more than 80% of the strength;
4.For sulfate corrosion resistant engineering.Aluminate cement has strong resistance to sulfate corrosion under normal hardening conditions, because the cement does not contain calcium aluminate and calcium hydroxide, and the compactness is large;
5.Works for winter construction.Aluminate cement hydration heat, and heat concentration.The hydration heat released within 1d is 70% ~ 80% of the total, which makes the internal temperature of concrete rise relatively high. Even under construction at -10℃, aluminate cement can set and harden quickly, which can be used in winter construction.
Physicochemical Indexes
Product
CA-65
CA-68
CA-70
CA-75
CA-80
Chemical Composition (%)
Al2O3
64-66
67-69
69-71
73-75
77-80
CaO
32-34
29-31
27-29
23-25
18-20
SiO2
1.8
1.2
0.3
0.3
0.3
Fe2O3
0.6
0.6
0.3
0.3
0.3
Specific Surface (cm2/g)
4500
4500
5000
5500
7000
Setting time (h:min)
Initial setting (min)
0:40
0:40
0:40
0:45
0:45
Final Setting (min)
8:00
8:00
10:00
10:00
10:00
Cold Modulus of Rupture (MPa) min
24 hour
6.0
6.0
6.0
6.0
5.0
72 hour
8.0
8.0
8.0
8.0
6.0
Cold Crushing Strength (MPa) min
24hour
45.0
45.0
45.0
45.0
35.0
72hour
70.0
70.0
70.0
70.0
60.0
Refractoriness (°C)
1680
1710
1730
1750
1770
Zhengzhou Rongsheng Kiln Refractory Co.,Ltd main products are all kinds of shaped and unshaped refractories, which are widely used in building materials, metallurgy, nonferrous metals, chemical industry, electric power and other industries. The company has the high temperature tunnel kiln production line, the product sells well at home and abroad, receives the customer the widespread high praise, if has the need, invites the consultation!