Chrome corundum brick refers to the refractory products of rigid jade containing Cr2O3. At high temperature, Cr2O3 and Al2O3 form a continuous solid solution, so the high temperature performance of chromium corundum products is better than that of pure corundum products. Chrome corundum bricks mainly used in petrochemical gasifier should be low silicon, low iron, low alkali, high purity, but also have a higher density and strength. The content of Cr2O3 in chrome corundum products is mostly in the range of 9%~15%.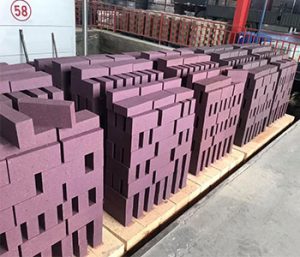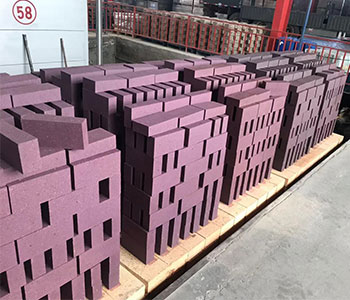 The main mineral composition of this series of firebrick is al2o3-cr2o3 solid solution. The secondary mineral composition is a small amount of composite spinel (or no composite spinel), chromium oxide content of 1% ~ 30% of refractory brick. There are two kinds of fused cast chrome corundum brick and sintered chrome corundum brick. Generally, chrome corundum brick refers to sintered chrome corundum bricks.
Chrome corundum bricks is made of Al2O3 as raw material, adding an appropriate amount of chromium oxide powder and chrome corundum clinker powder, after molding, burning at high temperature. The content of chromic oxide of sintered chromic steel brick is generally lower than that of fused cast chromic corundum brick. Also can use the mud pouring method to prepare, Al2O3 powder and chromium oxide powder evenly mixed, add degumming agent and organic binder to make thick mud, at the same time, add part of chromium corundum clinker, with the grouting method into the brick, and then burning. It can be used as the lining of glass kiln, the cover of wire-drawn glass liquid hole, and the backing of molten iron pretreatment device, waste incinerator, coal-water slurry pressurized gasifier, etc.
The refractory products are widely used in zinc smelting electric furnaces and volatile kilns. The corundum bricks have excellent thermal vibration stability and high-temperature creep performance, and meet the requirements of the national circular economy. The refractory material quality is stable and reliable, the price is also very reasonable, welcome to consult and purchase.