RS brand high alumina bricks for sale are made by high quality bauxite. RS Group has rich experience in high alumina bricks production, whole series of high alumina bricks such as general application high alumina bricks ( first grade high alumina bricks, second grade high alumina brick, third grade high alumina bricks), high RUL alumina bricks, low creep high alumina bricks, phosphate bonded high alumina bricks, abrasion resistant high alumina bricks, micro expansion high alumina bricks and so on can be provided. different dimensions of high alumina brick can  be customized according to customer's size requirements and quality standards.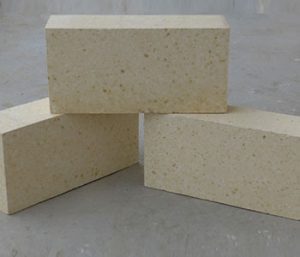 High Alumina Bricks Physiochemical Indexes
Item
First grade high alumina brick
Second grade high alumina brick
Third grade high alumina brick
Special grade high alumina brick
LZ-75
LZ-65
LZ-55
LZ-80
AL2O3 %≥
75
65
55
82
Fe203 % <
2.5
2.5
2.6
2.0
Bulk density g/cm2
2.5
2.4
2.3
2.6
Cold crushing strength MPa >
70
60
50
80
Refractoriness under load ℃
1510
1460
1420
1550
Refractoriness ℃ >
1790
1770
1770
1790
Apparent porosity % <
22
23
24
21
Permanent linear change rate %
-0.3
-0.4
-0.4
-0.2
High Alumina Bricks Applications
Different grades of high alumina bricks are applied in different thermaml equipment. General application high alumina bricks are widely used in all kinds of high temperature kilns and furnace and their high temperature performance is significantly better than fireclay bricks. Low creep high alumina bricks are usually used in hot blast furnaces, blast furnaces and so on. Phosphate bonded alumina bricks have better anti abrasion property, they are widely used in rotary cement kilns, electric furnace and so on.