Magnesia alumina brick manufacturing is to point to use magnesia and industrial lead oxide or bauxite as raw material, by grinding, forming, in 1600℃ or so fired from an alkaline refractory. The refractoriness is more than 2000℃, the resistance to rapid cooling and rapid heating is better than magnesia brick, and can resist the erosion of alkaline slag. Used for building the top of basic open hearth furnace and electric furnace.
Magnesia alumina brick is mainly composed of square magnesite and magnesia – alumina spinel. In order to improve the thermal shock resistance of magnesia brick, alumina or bauxite clinker powder was introduced into the batchings to form magnesia alumina spinel matrix, to make magnesia alumina brick. Magnesia aluminum brick is characterized by good thermal shock resistance, high load softening temperature, load softening temperature in 1580℃ above, good resistance to glass erosion. With the increase of content, the apparent porosity of brick increases. However, when the content is less than 10%, the brick is still relatively dense, the apparent porosity can reach 14%, generally 18% ~ 20%.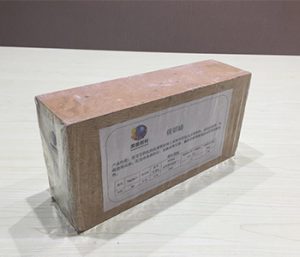 Magnesia Alumina Bricks Feature
Magnesia alumina brick manufacturing using calcium low high quality magnesite and industrial alumina powder as the main raw material, the high pressure forming, the high temperature burn becomes. Good cold and heat resistance, iron oxide, basic slag with good erosion resistance solvent.
Magnesia Alumina Brick Physicochemical Indexes
| | | |
| --- | --- | --- |
| Index | ML-80A | ML-80B |
| MgO(%)≥ | 80 | 80 |
| Al2O3(%) | 5~10 | 5~10 |
| Apparent Porosity≤ | 18 | 20 |
| Cold Crushing Strength(MPa)≥ | 40 | 30 |
| 0.2MPa Refractoriness Under Load(℃)≥ | 1600 | 1580 |
| Thermal Shock Resistance(1100℃,water quenching, cycle) | 3 | 3 |
Magnesia Alumina Brick Application
Magnesia alumina brick manufacturing is generally made of high quality sintered magnesia as granular material by adding a certain proportion of magnesia syncretic bauxite or light fired bauxite clinker or industrial alumina powder, by mixing, molding and firing. It is mainly used for top of steelmaking open hearth furnace and electric furnace, high temperature tunnel kiln, large cement rotary kiln and nonferrous metal smelting furnace.
Zhengzhou Rongsheng Kiln Refractory Co.,Ltd main products are all kinds of shaped refractory and unshaped refractories, which are widely used in building materials, metallurgy, nonferrous metals, chemical industry, electric power and other industries. The company has the high temperature tunnel kiln production line, the refractory product sells well at home and abroad, receives the customer the widespread high praise, if has the need, invites the consultation!