Cordierite refractory brick is made of cordierite with good thermal shock resistance and mullite with high pressure and strength, and then sintered at high temperature. Cordierite brick can also be called mullite cordierite brick. Cordierite and mullite each have their own characteristics, we in order to improve the use of its effect, the two firebrick combination, through many development tests, the final made. This series of refractory brick solves the problem of low toughness and low load softness of cordierite and effectively improves the effect of thermal shock resistance.
Cordierite brick is mainly made of sintered mullite, andalusite, plate-shaped corundum and cordierite, supplemented by ultrafine powder to strengthen the matrix. Then after mixing, molding, drying, low – temperature firing from. Because cordierite is fired at a very narrow temperature range, the firing temperature is critical. Cordierite refractory brick prepared by this process not only has excellent thermal shock resistance, but also has very high temperature performance, which is widely used in ceramic industrial kiln car surface, porous kiln push plate, roller kiln gasket and hot air furnace ceramic burner and other parts.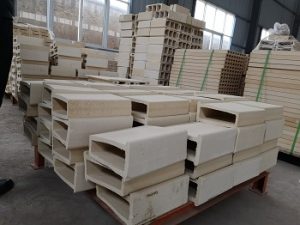 Cordierite Brick Physicochemical Indexes
| | |
| --- | --- |
| Items | Cordierite refractory brick |
| Al2O3 | 55% |
| Bulk density g/cm3 | ≥2.3 |
| Cold crushing strength MPa | ≥55 |
| Refractoriness under load ℃ | ≥1520℃ |
| Rate of reburn line change(1400℃x2h)% | ≥0.2 |
| Thermal shock resistance(1100℃ Chydrocooling)/times | ≥40 |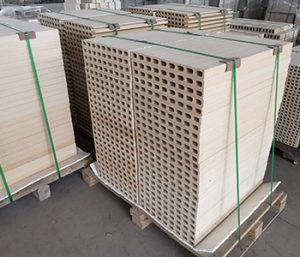 The thermal expansion coefficient of this series of refractory bricks is large and small (about 1×10-6~2×10-6℃-1 at 25-1000℃), with good thermal shock resistance and chemical stability.
Zhengzhou Rongsheng Kiln Refractory Co.,Ltd main products are all kinds of shaped and unshaped refractories, which are widely used in building materials, metallurgy, nonferrous metals, chemical industry, electric power and other industries. The company has the high temperature tunnel kiln production line, the product sells well at home and abroad, receives the customer the widespread high praise, if has the need, invites the consultation!