Zhengzhou Rongsheng Kiln Refractory Co. Ltd. established in the early 90s of twenty century, located in the foot of Mount Song, a place of Xinmi city, which is in the middle of Zhengshao Expressway. The abundant high quality materials and convenient transportation, neighboring the Longhai and Jingguang railway lines, provide favorable conditions for the production of the refractory materials. After 20 years of hardworking and development, it has become a comprehensive enterprise producing refractory materials in metallurgy, building materials, electric power and chemical industry, etc.
There are about 1262 employees, including senior technical personnel 65, high-tech workers 80 and complete physical and chemical advanced detection methods and testing equipment, including 10 forming presses of 400 to 1000 ton as well as 3 high-temperature tunnel kilns, one is 148 meters long, the other is that of 118. The credit rating is AAA grade, and the economic indicators and the enterprise technical force, namely the scale keep the leading position in the domestic industry.
Its major business are shaped refractory products,  unshaped refractory materials, insulation materials, and refractory balls, etc.

Shaped Refractory Products:
High alumina products: Usually used as the high alumina brick, high alumina concrete, and phosphate bonded aluminum bricks, etc. They are used in the blast stove, hot blast stove, electric stoves, and cement kilns, and so on;
Silica refractory products: Hot blast stove, glass kiln, silica brick for coke stove;
Clay refractory products: Clay refractory brick, clay brick for the hot blast stove, alkali proof brick and low porosity clay brick for the cement;
Magnesia brick, magnesium aluminum brick and magnesium chrome brick;
Silicon brick for cement kiln, wear-resistant refractory product;
Carbon bricks, which are usually used in the blast furnace, lining of the ladle and launder, aluminum reduction cell, and ladle, etc.
Corundum bricks: They are applied in heating furnace, tunnel kiln, hot blast stove, glass melting furnace, etc.
Spinel bricks: They are installed in the lining of the ladle, open hearth, cement rotary kiln, and blast furnace, etc
And other combined bricks.
Strict quality management system, it has perfect production equipment and testing instrument, and passed ISO9001: 2008 quality system certification, environmental management system certification, and occupational health and safety management system certification. With scientific and strict management from the raw materials, manufacturing process to the products testing, RS takes professional information and services as well as the excellent products as the top goal.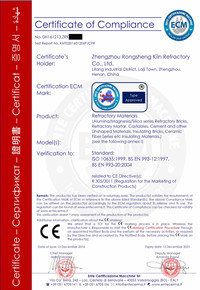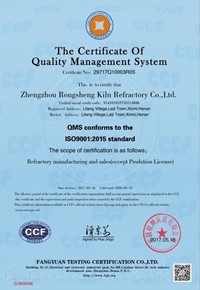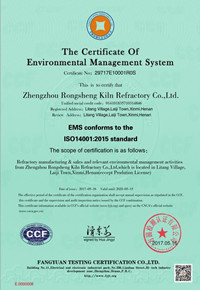 Professional sales and after-sales service team: they offer consumers the best all-round services in applications, construction and installation, operation and technical training, etc. Rongsheng has established cooperative relations with multiple scientific research institutes, and its products has exported to Japan, Indonesia, Iran, Kazakhstan, Vietnam, etc.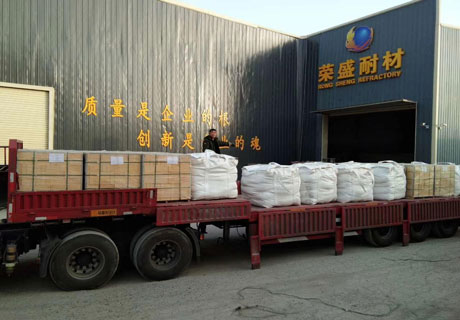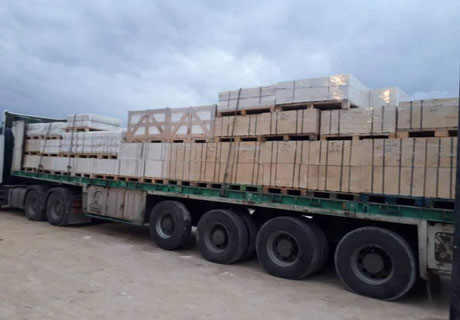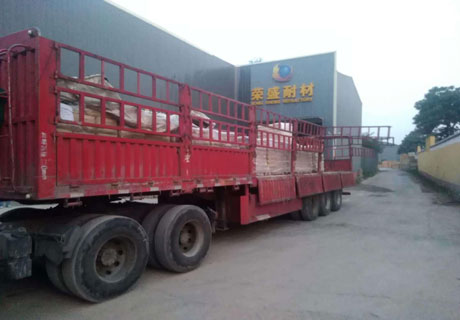 Zhengzhou Rongsheng Kiln Refractory Material Co. Ltd. has obtained the production license issued by the state and participated in the research and set of the refractory materials standard. And in order to adapt the market, the company has established long-term stable technical cooperation with colleges and universities. Since then 2004, it has gained the honor of advanced enterprise given by the Industrial and Commercial Bureau of Henan Province, for its good credit. And now it has been a high-tech and fast growth enterprise.
Rongsheng has always been adhering to the business purpose of honesty, respectful, innovation, and dedication. It will persist the strategic developing road based on quality and cheap to establish its own brand. By scientific management, sound customer information management system and abundant products, Rongsheng provides satisfactory, timely, and efficient service to the consumers.