General shaped refractory process flow is as follows: Raw material inspection du – raw material selection – crushing (aggregate, powder zhi grading) DAO – mixing mill (some require trapped materials) – molding – drying – installation kiln – firing – out kiln – finished product inspection – storage.
Shaped Refractory Introduce
A class of inorganic nonmetallic materials whose fireproof degree is not less than 1580℃. Refractoriness refers to the Celsius temperature at which a conical specimen of a refractory material resists high temperature without softening the molten material under load. However, the definition of refractoriness alone cannot fully describe the refractory materials, and 1580℃ is not absolute. Shaped refractory for sale is now defined as a material whose physical and chemical properties permit it to be used in a high temperature environment called a refractory. Refractory materials are widely used in metallurgy, chemical industry, petroleum, machinery manufacturing, silicate, power and other industrial fields.
Shaped Refractory Effect
Refractory materials are used in steel, nonferrous metals, glass, cement, ceramics, petrochemical, machinery, boiler, light industry, electric power, military and other fields of the national economy. They are essential basic materials to ensure the production operation and technological development of the above industries and play an irreplaceable important role in the development of high-temperature industrial production.
Since 2001, driven by the rapid development of high temperature industries such as iron and steel, nonferrous metals, petrochemicals and building materials, the refractory industry has maintained a good growth momentum and has become a major producer and exporter of refractory materials in the world. In 2011, China accounted for about 65% of the world's refractory output, ranking first in terms of production and sales.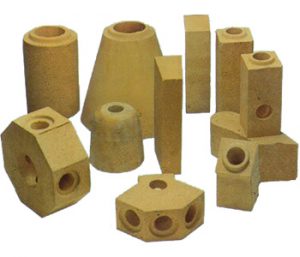 Shaped Refractory Classification
It is necessary to classify the refractories scientifically so as to facilitate scientific research, rational selection and management. There are many classification methods for refractory materials, including chemical property classification, chemical mineral composition classification, production process classification and material morphology classification.
1.According to the high or low score of fire resistance
Ordinary refractory: 1580℃ ~ 1770℃
Advanced refractory: 1770℃ ~ 2000℃
Super refractory: >2000℃
2.Depending on the shape and size of the product
Standard type: 230mm×114mm×65mm;
No more than 4 measuring feet, (dimension ratio) Max:Min<4:1;
Type: not more than 2 concave angles (size ratio) Max:Min<6:1;
Or an acute Angle of 50 ~ 70°;
Special type: (size ratio) Max:Min<8:1;
Or not more than 4 concave angles; Or an acute Angle of 30 ~ 50°;
Special products: crucible, vessel, pipe, etc.
3.Refractory materials can be classified by manufacturing method
Fired products, non – fired products, non – shaped refractories
4.Classification by chemical properties of materials
Acid refractory, neutral refractory, basic refractory
5.Classification by chemical mineral composition
This classification can directly represent the basic composition and characteristics of all kinds of refractories. It is a common classification in production, use and scientific research, and has strong practical application significance.
The refractory materials commonly used are AZS brick, corundum brick, magnesium-chrome brick directly combined, silicon carbide brick, silicon nitride bonded silicon carbide brick, nitride, silicide, sulfide, boride, carbide and other non-oxide refractory. Calcium oxide, chromium oxide, alumina, magnesium oxide other refractory.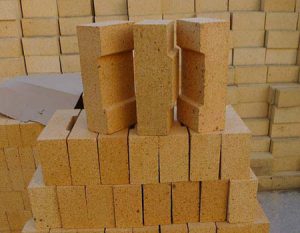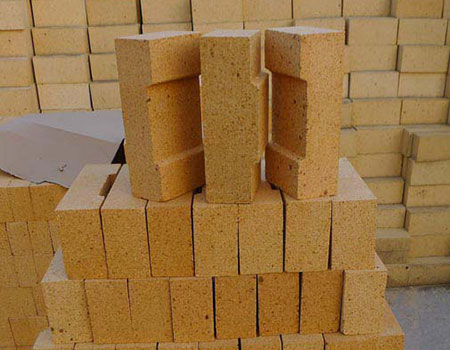 Shaped Refractory Structure
Acid refractories to silicon oxide as the main component, commonly used silicon brick and clay brick. The silica brick is a siliceous product containing more than 94% silica. The raw materials used are silica, waste silica brick, etc. Its corrosion resistance to acid slag is strong, the softening temperature is high under load, the volume does not shrink after repeated calcination, even slightly expand; But it is easy to be eroded by alkaline slag and has poor thermal shock resistance. Silicon brick is mainly used in coke oven, glass melting furnace, acid steel furnace and other thermal equipment. The clay brick is mainly made of fire-resistant clay and contains 30% ~ 46% alumina. It is a weak acid refractory with good thermal shock resistance and corrosion resistance to acid slag. It is widely used.
Neutral refractories to alumina, chromium oxide or carbon as the main composition. Corundum products containing more than 95% alumina are a kind of high quality refractory with wide use. Chromium oxide brick has good corrosion resistance to steel slag, but poor thermal shock resistance and low deformation temperature under high load. Carbon refractory brick, graphite products and silicon carbide products, its thermal expansion coefficient is very low, high thermal conductivity, good thermal shock resistance, high temperature strength, acid and salt corrosion resistance, especially the weak acid and alkali has better resistance, not by metal and slag wetting, light weight. Widely used as high temperature furnace lining material, also used as oil, chemical autoclave lining.
Basic refractories to magnesium oxide, calcium oxide as the main components, commonly used is magnesium brick. The magnesia brick containing more than 80% ~ 85% magnesia has good resistance to basic slag and iron slag, and its fire resistance is higher than that of clay brick and silicon brick. It is mainly used in open hearth furnace, oxygen converter, electric furnace, non-ferrous metal smelting equipment and some high temperature equipment.
Physical Properties Of Shaped Refractory
The physical properties of refractories include structural, thermal, mechanical, operational and operational properties.
The structural properties of refractories include porosity, volume density, water absorption, permeability and pore diameter distribution.
The thermal properties of refractories include thermal conductivity, coefficient of thermal expansion, specific heat, heat capacity, coefficient of thermal conductivity, thermal emissivity, etc.
The mechanical properties of refractories include compressive strength, tensile strength, flexural strength, torsional strength, shear strength, impact strength, abrasion resistance, creep property, bond strength, elastic modulus, etc.
Refractory performance includes refractoriness, softening temperature under load, change of heavy firing line, thermal shock resistance, slag resistance, acid resistance, alkali resistance, hydration resistance, CO resistance, electrical conductivity, oxidation resistance and so on.
Shaped Refractory Production Technology
According to the densification degree and appearance of the products are different, there are sintering, melting casting and melting spray method. Sintering method is to pre-burn some raw materials, crushing and sieving, and then mix with raw materials according to a certain ratio, after molding, drying and burning. The purpose of raw material pre-burning is to burn away water, organic impurities and sulphate decomposing gases in order to reduce the burning shrinkage of products and ensure the accuracy of product dimensions. The raw materials also need to be screened after crushing and grinding, because the billet is graded by different sizes of powder, which can guarantee the compact billet to be piled up most closely.
In order to homogenize the composition and particles of all kinds of raw materials and clinkers, a mixture and a binder should be added to enhance the billet bonding strength. For example, aluminum silicate billet is added with clay, magnesium billet is added with sulfurous acid pulp waste liquid, silica billet is added with lime milk. Depending on the water content of the billet, semi-dry molding (about 5% water), plastic molding (about 15% water) and grouting molding (about 40% water) can be used. It is then dried and cooked. The melting casting method is to melt the raw materials at high temperature after mixing the ingredients and grinding, and then directly pour them into the products after cooling, crystallization and annealing. Such as casting mullite brick, corundum brick and magnesia brick. Their compact body, high mechanical strength, high temperature structure strength, good slag resistance, the scope of use is expanding. Molten injection is the melting of the ingredients, with high pressure air or superheated steam jet, so that they disperse into fiber or hollow ball method. The products are mainly used as light refractory and heat insulation materials. In addition, it can also be made into powder or granular amorphous refractory materials, used in the binder such as tar, asphalt, cement, phosphate, sulfate or chloride, without molding and sintering and direct use.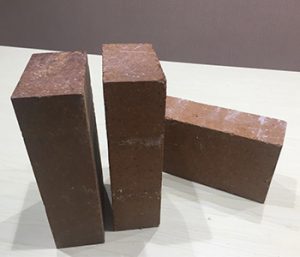 Rongsheng Refractory Manufacturer
This is the general description of RS shaped refractory products.  RS Group adheres to the principle of " integrity, modesty, innovation and hard-work" and regards "high quality with low price" as the cornerstone of the enterprise's development. With independent import and export business right, it has exported Shaped refractory products to many countries such as Japan, Indonesia and Vietnam and gained trust from our customers and much public praise for its high quality and sound service. If you want to know more about us and our shaped refractory products, please contact us.