It is well known that the high alumina brick refractory than clay brick and semi – silicon brick refractory are higher. Its refractory temperature can reach 1750~1790℃, belongs to the advanced refractory. High alumina bricks manufacturing, Al2O3 content is high, less hybrid mass, forming less soluble vitreous, so the softening temperature under load is higher than clay brick, but because mullite crystal did not form reticular structure, so the softening temperature under load is not as high as that of silicon brick.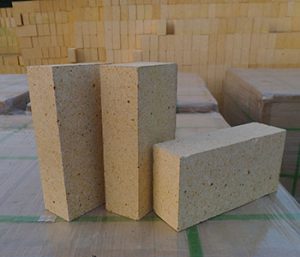 Al2O3 content in high alumina refractory brick is more, close to neutral refractory. It is resistant to acid and alkaline slag. In addition, due to the presence of SiO2, the ability of alkaline slag is weaker than that of acidic slag. This series of firebrick is widely used, mainly used for building blast furnace, hot blast furnace, electric furnace roof, blast furnace, reverberatory furnace, inner lining of rotary kiln and other industrial equipment. In addition, high aluminum brick manufacturing is also widely used in the flat furnace regenerator lattice brick, pouring system with plug head, nozzle brick.
High alumina bricks manufacturing has high refractoriness, high softening temperature under load, good thermal shock stability, acid resistance, alkali resistance, corrosion resistance and other characteristics. In the production of bauxite clinker through the crushing screening, powder mixing and grinding, through the ingredients, mixing, molding, drying at 1440~1460℃ into firebrick.
The raw material used for high alumina brick is the supergrade alumina clinker calcined in rotary kiln. The content of AL2O3 is more than 85%, and the density is greater than 2.8g/cm3. The raw material used for general purpose high alumina brick is generally AL2O3 at about 75% and the density is about 2.6, so the products produced by the two kinds of raw materials are very different. Refractory in high aluminum brick products is a hard index, every kind of firebrick will have a refractory index. But because of the balance of the problem, the definition of the general fire resistance on the difference in the material to be divided, such as the clay brick fire resistance in the national standard is not less than 1700℃ can be, and high aluminum brick fire resistance is not less than 1750℃ can be. But the actual product of the value of the refractories should be higher than the national standard requirements of the value, the general purpose of high aluminum brick refractories in 1780℃ and the special high aluminum brick refractories in 1820℃.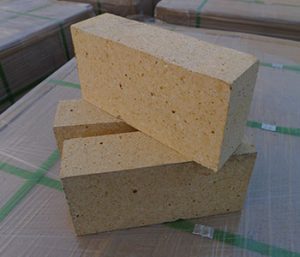 Zhengzhou Rongsheng Kiln Refractory Co.,Ltd. committed to the production of high quality refractory products, high refractoriness, quality stability, has been the customer's consistent praise and trust.